25th Annual Company Open
Charity Golf Outing

- SOLD OUT -

Sponsorships Available!

FRIDAY, SEPTEMBER 16, 2016

Registration and Practice at 9AM - Shotgun Start 10AM
$500 per foursome / $125 per person includes

18 Holes of Golf with Car

Exclusive Gift Bag

Tee markers with your company name and spot for business cards

Continental breakfast before start

Lunch
Steak Dinner Banquet (additional guests $25 per person)

Putting Contest & Hole-in-One Prizes
THOUSANDS OF $$$$ IN PRIZES, CONTESTS, SILENT AUCTIONS ITEMS,
RAFFLE ITEMS, LIVE AUCTIONS

---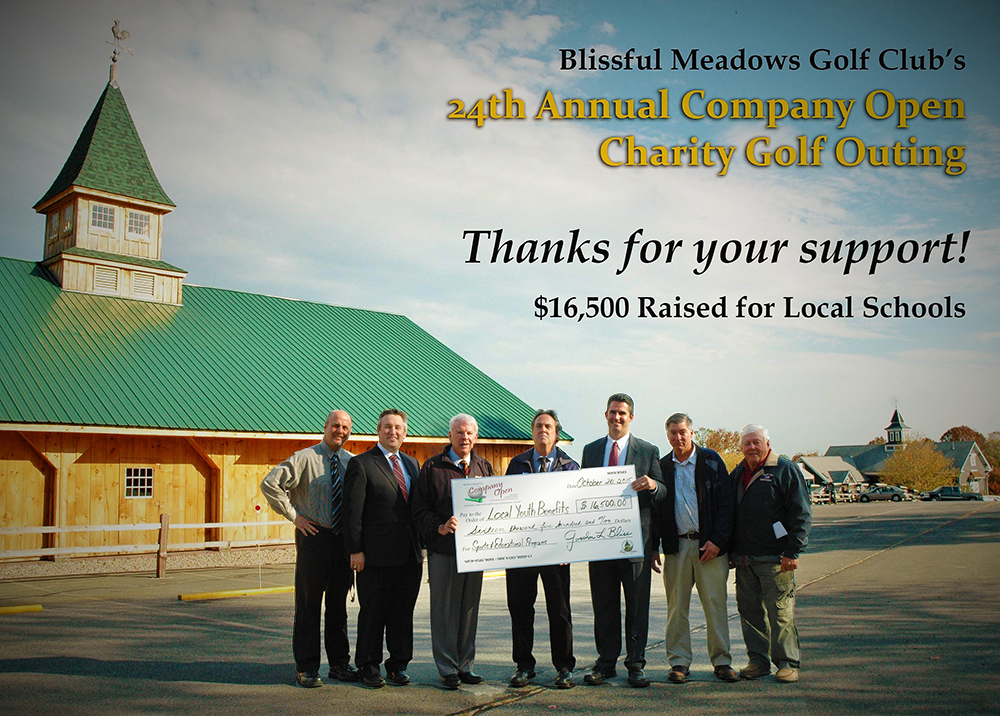 Pictured L to R: Michael Gauthier, Principal, Northbridge High School; Michael Rubin, Principal, Uxbridge High School; Dr. Fitzpatrick, Superintendent of Blackstone Valley Technical School; Kevin Maines, Principal, Douglas High School; Kevin Carney, Superintendent Uxbridge Schools; Mark Laskowski, Club Manager, Blissful Meadows Golf Club; Gordon Bliss, Owner, Blissful Meadows Golf Club
2015: Local Schools Receive $16,500 from Blissful Meadows Golf Club and Friends
On September 11th, 2015 Blissful Meadows Golf Club hosted 147 generous golfers at the 24th Annual "Company Open" Charity Golf Outing. Local businesses fought it out for title of "Company Open Champ", and team "Babcock Power" came out on top with their 2nd career win. As always, we are proud to provide all proceeds from this event to our local schools in Uxbridge, Douglas, Northbridge and the Blackstone Valley Tech, for their athletic and educational programs.
This year, with our sold-out golf outing as well as our first annual "$1000 Golf Ball Drop", we will provide the recipients a combined total of $16,500.00. With the donations and participation from our sponsors, vendors, players, staff, friends and family....we will be able to help fund six local school programs; the Uxbridge High School and Middle School Athletic Departments, the Northbridge High School's Career Academy Programs as well as funds towards the Northbridge Golf Teams travel and equipment, the Douglas Athletic Department, and the Blackstone Valley Tech for a Lighting Grid to be used in the Multimedia Communications new Audio Visual Lab.
Many of our kind-hearted sponsors and participants have been supporting this event year after year. Anastasi Insurance, Unilock, King Gage Engineering, Uptown Trucking, Omni Systems, CCE, Allens Seed Store, TD Bank, Imperial Ford, Romasco Financial, New England Flooring, just to name few. They are local business men and woman, who look forward to this event each year. They participate because they know their financial support is making a difference right in their home towns, helping the children of their communities. And, of course, they have fun and enjoy the beautiful golf course and the friendly camaraderie.
Some things have become tradition at the Company Open, like the Florida style format, or the delicious Steak Dinner followed by an amusing "Auction-Roast" by our very own Club Manager, Mark Laskowski. However, new features are introduced year after year in order to provide variety, entertainment, and additional fundraising revenue. Whether it be a stand-up comedian, a well-known local live-auctioneer, or ever-changing on-course events, we are always striving to find new and fun ways to increase the bottom line for the recipients. This year we asked the Tankis family of Mass Tree and Stump Removal to help us with a new event, the "$1000 Golf Ball Drop". They kindly offered the use of their bucket truck to drop 300 numbered golf balls from 50ft high, to a target hole below. The ball that ended up in the hole was the winner. The winner walked away with $1000, and the charity gained as well.
Another new item this year was the Air Cannon on the first hole. Players were able to shoot their golf balls out of the hand held air cannon, onto the green. The players had great fun with this.
Imperial Ford once again sponsored our hole-in-one with a 2016 Ford F150, and brought additional vehicles for viewing. Russ Rosborough of Uxbridge Auto, put up a $1000 cash prize for a hole in one.
We invite you all to join us on September 16, 2016 for the 25th Annual Company Open Charity Golf Outing.