Sunday Sweeps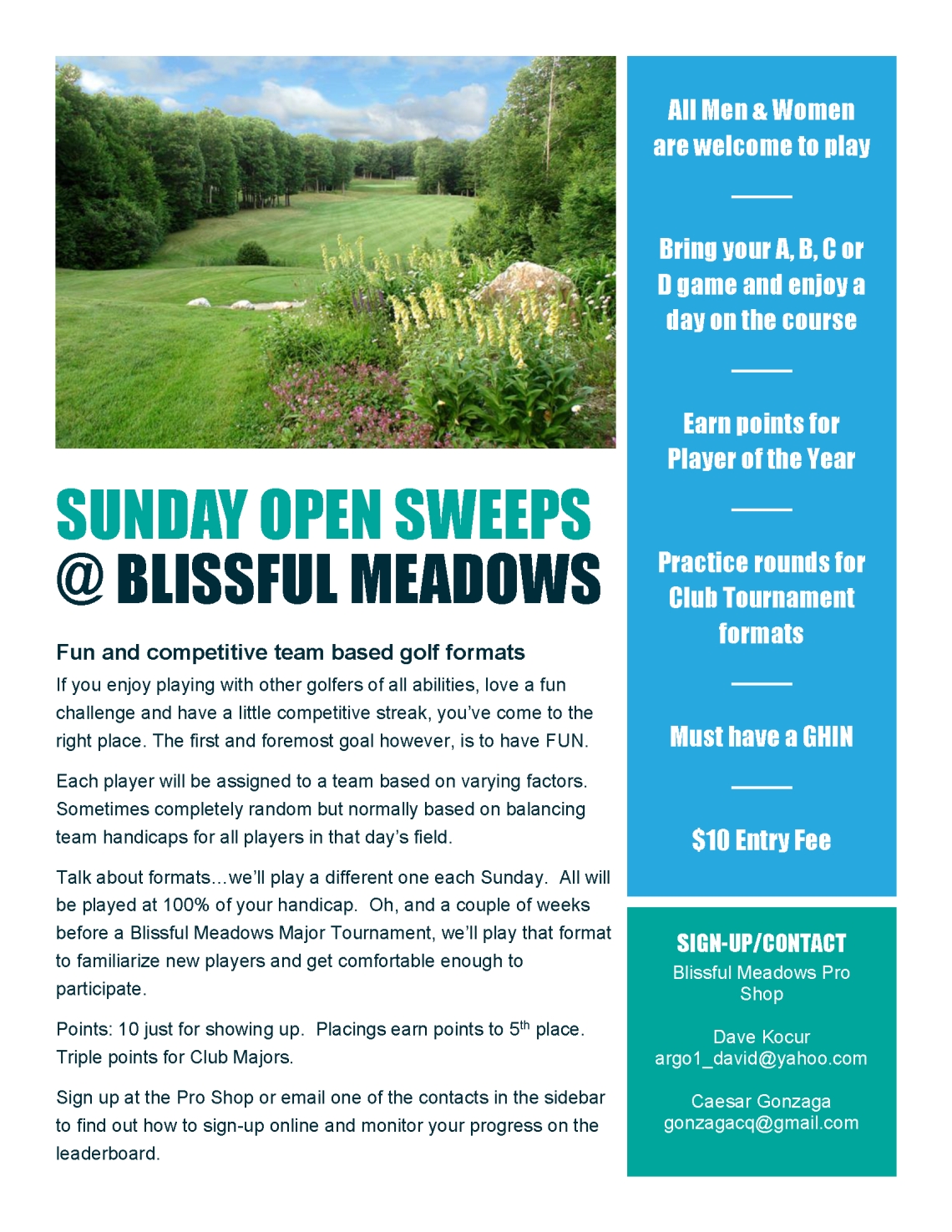 Blissful Sunday Sweeps - Open to All
Run by Caesar Gonzaga, (Club Member) gonzagacq@gmail.com and
Dave Kocur, Proshop Manager
Players of all abilities are welcome to join us for this weekly Sunday Sweeps. We strive for a balance between competitive play and enjoyment of the game. The experienced players are there to not only contribute with their game but also to the improvement of everyone's game management, tactics and knowledge of the rules.
Expect a bit of self-imposed pressure to play your game but there is always comic relief just around the corner. We've all been there with awful, ugly rounds…it happens. Your teammates will just have to up their game that day. Trust us, it'll be you doing the same when someone else is having that bad day. If everyone is having a bad day, that's why the large flasks were invented.
Cost (excludes prize money):

Member: No cost to walk, $14 to ride

Loyalty Club: $55 to walk, $74 to ride with lunch or 5500 loyalty points to walk or $5500 loyalty points + $18 to ride

Any prize money will be coordinated separately by a member of the Sweeps Committee and will not be directly managed by the Pro Shop.

Tee times will start at 8am for consecutive time slots for the number of players signed up for each Sunday Sweeps. We have a fixed number of tee times reserved and as the participation grows, we will add additional slots.

The majority of formats for these Sunday events are team based and descriptions will be made available with the online sign-up sheet (see next bullet).We will also play a similar format to an upcoming Blissful Major to familiarize new (and rusty) players who wish to participate in them.

In the near future, an online sign-up sheet will be published and players can independently access and sign up virtually.Deadline for signing up is the Wednesday night prior.As a matter of courtesy, we must inform Blissful on Thursday to free up unused tee times. If you do miss the deadline as your schedule has changed, inform the Pro Shop or one of the committee members and you will be added as a substitute/alternate.

The Sunday roster, event format, prize money and teams will be published by Friday evening.The substitutes/alternates will be added in case your initial commitment has changed.

All players must have a GHIN Index/HCP in order to participate in Sunday Sweeps (reread above bullets for reasons).This is not meant to be exclusionary but to ensure a level field for all participants. Unless you are a sandbagger.

All participants must record their individual score for the round via whichever method you choose.There is a phone app, the Pro Shop or websites just for this purpose.

Player of the Year. Participation in Sunday Sweeps and Club Tournaments earn players points for year end POY honors.

Every Sunday event you play earns an automatic 10 points.

Placing in the event (varies depending on number of players) will earn additional points

1st Place = 40 points, 2nd Place = 30 points, 3rd Place = 20 points, 4th Place = 10 points, 5th Place = 5 points

For Club Tournaments, the points earned (including participation) are tripled.

A club trophy will bear the top 3 players and their point totals for the year and will reside in the Meadowview Tavern.

Point placings does not equate to prize payouts.

The Meadowview Tavern has kindly agreed to have a special (based on that day's menu) available to players in this group that paid for a lunch ticket.

The Sunday Sweeps Committee may add at their discretion or suggestion from participants to this section. However, it will first be presented to all participants if necessary prior to inclusion.