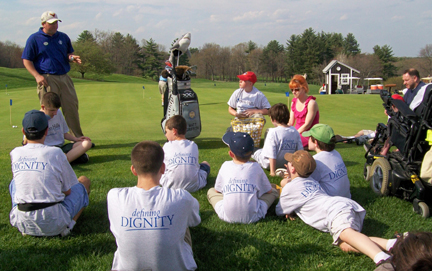 Imprinted on the t-shirts of the "Homestead Group" is the motto "Defining Dignity". Their motto was proven last month during a group golf clinic at Blissful Meadows Golf Club. PGA Professional, Matt Griffith and his assistant, Ryan Mercer, spent two beautiful spring days teaching 21 eager students the game of golf.
The Homestead Group is an affiliate of The Seven Hills Foundation
of Worcester. The Seven Hills Foundation
supports the welfare of people with developmental, physical, psychological, and related disabilities. Its broad range of services, including education, housing, occupational training, rehabilitation, and therapeutic and social recreation, foster the dignity, independence, and self-determination of every individual served.
"The clinic for Seven Hills was a fantastic success." says Mr. Griffith. "We worked with the kids from 4pm to 5pm on Monday and Tuesday, covering golf etiquette, putting, chipping, the grip of the club, and how to swing. It was such a success and I was thrilled at the level of enthusiasm the kids had."

The parents of the children were also thrilled to see the effect that Matt and Ryan's golf instruction had on their kids. "During this event, there were NO barriers, disabilities, or challenges for the kids, they just had some good old fashioned learning and enjoyment!" said one parent. "My child has a new hobby as a result of this clinic that we never knew was an interest which has given us more social opportunities, exercise and improved self esteem."

Chris Ricard, Program Director of Seven Hills went on to say "Matt has a magical talent to be able to engage this large group and make each and every person feel good about a new accomplishment!" This was the case when one of the children's physical difficulties prevented him from the ability to feel the grip of the golf club in his hands. Instead of having him sit on the sidelines, Matt quickly came up with the idea to fit two golf gloves with double sided tape in order to aid the child in the correct positioning of the golf club. "The results were spectacular and he enjoyed the day with the rest of the kids", says Matt.

For more information regarding golf instruction at Blissful Meadows Golf Club, visit www.blissfulmeadows.com or contact 508.278.6110.